Catch Reporting & Verification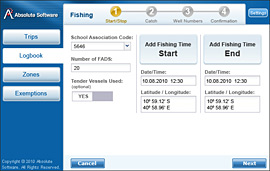 Eliminating the need for labour intensive paper logbooks, Pole Star's electronic logbook (e-Logbook) offers the potential to better manage catch data and produce traceability documentation.
Many fisheries regulations incorporate limits on the total number of fish caught and fishing days per area. Pole Star provides a single, rule-based system that monitors compliance automatically and loads and converts data from both at-sea and at-dock landing reports - making it available immediately for port inspection personnel via 3G/4G handheld tablets.
Our systems are designed to meet the traceability requirements being introduced by the EU, North American and Japanese authorities.
Contact us for more information about our Catch Reporting Systems.
---
Key Features
GPS tracking
Geographic Information System (GIS)
Google® Maps or Open Streets database
2D and 3D visualisation tools
Full text search
Digital photos & document management
Alerts, alarms and notifications
Custom overlays (polygons)
Entry/exit alerts
Over/under speed alerts
Remote diagnostics for tracking hardware
Data export in XLS, Opendoc, KML formats
Application Programming Interface (API) for integration with in-house systems
Recommended Hardware
Globalstar SmartOne

The "vessel ready" design allows it to be installed easily and field managed without the need for harnesses, antennas, or external power.

The SmartOne is powered by 4 x AA 1.5V lithium batteries providing up to 3 years of battery life, for a fit-and-forget solution, without the need to purchase expensive proprietary batteries for replacement.

---

Operates in extreme temperatures and conditions
Requires no harnesses, no external power and no external antenna
Reduced satellite messaging if asset remains in same location
Dimensions: 3.25" X 6.5" X 1.0"
Mass: 70 grams
Operating temperature range: -30 to +60deg C
Power source: 4 x Lithium AA Batteries (not included)

Brochure

Absolute-VMS

The Absolute VMS reports the vessel's location - accurately and privately - to the Fisheries Monitoring Centre (FMC) at programmable intervals.

Protected from the elements, as well as from intentional tampering, the robust unit is tough enough to last for years with only minimal maintenance.

---

Fully integrated and complete system
Anti-tamper alerts
5-7 days autonomy on backup battery power
Robust and rugged design
Low installation cost
Low-maintenance
Alert@Sea emergency button (optional)
Absolute e-Logbook (optional)
24/7 customer support

Brochure

Catch Reporting

The e-Forms electronic logbook package is fully integrated with leading Inmarsat and Iridium based VMS terminals, and is engineered to be compact in size and inexpensive to update over satellite connections.

Also provided are weather and safety information via satellite, thus improving situational awareness and safety.

---

Replace manual paper based catch reporting with Electronic Catch Reports (eLogbook)
Fishing activity is reported in real time
Custom e-Forms tailored to your needs
Compact and rugged device with an intuitive touch screen interface
Manage catch data and zones

Email functionality

Size: 215 (W) x 156 (H) x 65 (D) mm (maximum with rubber boot)

Display Size: 7" (178 mm ) diagonal
Mass: 1 kg
Operating temperature range: -20 to 60deg C
Certifcations: CE EN60950-1, EN55022, EN55024, EMC FCC Part 15, Class A RoHS

Brochure