Seafood Traceability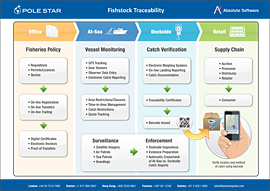 In many countries there is a consumer driven focus on catch certification at point-of-origin. Pole Star's efforts to extend seafood traceability towards the consumer are a work-in-progress, and require cooperation and inter-operation between fishing operators, government regulators and technology suppliers. Pole Star is in a unique position to assist because the technology for issuing digitally signed traceability certificates, with embedded 2D barcodes, is a core feature of our Vessel Monitoring System.
Basic information is available upon scanning/photographing a 2D barcode (without requiring reference to external databases or websites), while more sensitive information, such as the exact location of catch, is not disclosed but is available to authorised parties with access to the system only.
If you are interested in seafood traceability and would like to learn more, please contact us.
---
Key Features
GPS Tracking
Fishing Gear Sensors
Observer Catch Data Entry Systems
Electronic Logbooks for Catch Reporting
Fishing Effort Management
Quota Tracking
Catch Documentation
Traceability Certificates